A lot of people have great ideas to use for Drop-Off's (Pop-by's) for their past clients or their sphere of influence. Here are some ideas that have worked well, but I will also tell you the ones over the years as an agent that did not do so well!

Here's ideas for each month:
– January – hot chocolate w/your branded mug or ecard from Starbucks for the Peppermint Mocha Hot Chocolate
– February – hand sanitizer – "spread love not germs"
– March – succulent or lucky charm cereal bowl-"I'm so lucky to have(had)you as a client/friend" Lucky Charms cereal bowls you can get for a $1 normally at the grocery store, add a plastic wrapped spoon with ribbon on it.
– April -Laffy Taffy -"Figured you may need a "laugh" today with smiling emoticon- April 1st
– April-aloe Vera plant -"thank you for being a "vera" great client/friend"
– May- travel bug spray – "I'm never too busy for you to "bug" me with a referral"
– June – peach truck -"you have been a "peach" of a client"
– July-bbq spice – "things are spicing up in the market" or "your ribs may be spicy but the market isn't"
– August -handheld fan -"Thanks for being my #1 fan as your Realtor"
– August-Airborne back to school for kids, teacher gifts and past clients.
– September- "I don't know what your fortune is but I see a new house in your future" Fortune cookie
– October -foaming hand soap -"Thanks for being a "scentsational" client/friend
– October -pumpkin trick or treating tote or send your Starbucks SOI that love Pumpkin spice latte a e-card from Starbucks
– November -I am normally traveling during this time frame so I opt out of doing something besides sending an e-card to Starbucks!
– December-Poinsettas to my top referring clients or SOI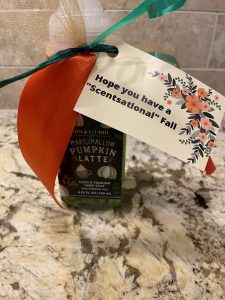 Of course, you can do the typical Valentines, Easter baskets, flags, Thanksgiving pies and Christmas cards just like any other REALTOR out there, but that is boooorrrring!!! Twist some of the above ideas to make them your own.

I personally believe in customizing the Drop-Off's to my sphere of influence. Like I would not do BBQ spice for my vegan SOI, but I may give them some different seasonings. My favorite to gift is Florida Citrus Sunshine which is great on grilled veggies, on fish, or mixed with EVOO as a light salad dressing. https://saltsisters.net/

Extra gum-"Thanks for going EXTRA Mile"- great for school teachers, home builders, team parents, etc

I made the cards on canva.com and sent them to my local USPS store for printing business card size. On the front was the saying and on the back was my info. You can use any printing company you prefer, I just wanted them to be small enough to attach and I did not need a ton.

Also, think about rotating the drop-offs into your tier of SOI by quarters.

On the card you leave them, tell them to post the gift & tag you on SM so you know they received and as a thanks to you! That way your other SOI will remember you as a REALTOR.
Happy House Hunting!!! Amyoutloud