Texas Real Estate State Exam-Need to Know
December 1, 2022
Synonyms in Real Estate for Texas
February 1, 2023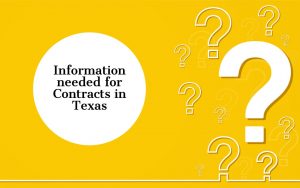 You can get this via doing your Broker's Buyer Profile or used my attached questionnaire that should help when studying for the State of Texas licensing exam or writing your first contract. Or you can create your own Buyer's Profile Questionnaire. All up to you.
Items I need to write an offer in Texas for the 1-4 Family Contract as of January 2, 2023:  You have to remember who you are representing when filling in an offer, plus market conditions. ***Disclaimer- contact your Broker with questions, have your attorney and your client's attorney review. Don't practice law!!!!
Full Legal Names (who is taking title, is mortgage going into only one borrowers name, is it a Trust buying the property?)- Paragraph 1 -Buyer
2. Verify with seller and buyer that they understand the exclusions that the seller is wanting to take with them. If the buyer is wanting additional items (like- Washer, Dryer and Fridge, then you would put that in Non-Realty Items Addendum)- Paragraph 2 -Buyer and Listing Agent/MLS
3 Sales Price – 3A is the down payment – "Buyer how much do you want to offer?- goes in 3C) "Buyer how much are you putting down?" Buyer says 20%, then you would take 20% of sales price and put it in 3A, then 3B is the loan amount and 3C is the offer/sales price. This amount will carry over to the 3rd Party Financing Addendum as well.- Buyer and RMLO
4. Paragraph 4- Leases that affect the property- 4A. Residential Leases, 4B. Fixture Leases, 4C. Natural Resource Leases (4C1 or 4C2)- You will get this from the Listing Agent
5. Paragraph 5A. Title Company information and address. Ask as a courtesy to the listing agent if they have title opened at a title company. Earnest $ and Option $- Earnest $ is Texas is negotiable but prep your buyers to expect about 1% for earnest money amount. It will be credited at closing if they don't default. **Remember- Earnest money is not a requirement for a valid contract. Option $- negotiable amount although some listing agents may stipulate in their listing in MLS what the Seller wants for Option Money amount and time frame. Earnest $ and Option $/Time is negotiable so get an idea from the listing agent and your buyers (clients) on what can be the of the best interest for your client. Time for delivery of option $ and Earnest $ is set forth in paragraph 5 which is 3 days after the effective date of the contract.
6. Title Policy and Survey-
-6A is Title Policy is a normal Seller Expense but negotiable.
-6A8ii – if I represent the buyer, I would want shortages in area to be Seller checked box.
-6C1- Survey- Listing agent- does the seller have existing survey or look on the MLS documents because it may be there
-6D- Buyer-"What are you going to use this property for? (Me-)Oh, you want to run a hair salon?" Then I need to address it in paragraph 6D
-6E(2) Membership in Property Owner's Association- information will be on the MLS
7. Paragraph 7B- Sellers Disclosure normally is under Docs under the MLS listing for the agent. If not, reach out to the Listing Agent and have them send over to you to put with offer. If you don't have it, then check the appropriate boxes. 7D(2) – is used if the buyer wants something specifically fixes that is readily visible. Ask the buyer-"Do you want that front kitchen that is broken replaced? Is this a deal breaker buyer?" Remember you have the Option time frame for the buyer to do their Due Diligience with inspections and request additional repairs. This starts renegotiations. Buyers can hire an inspector licensed by TREC or otherwise permitted by law
8. Paragraph 8 -"Are you a licensed sales agent in Texas representing yourself, Business Entity owning more than 10% interest, spouse, parent or child?' This must be disclosed on Paragraph 8 of the contract
9. Paragraph 9- "When do you want closing?" -Fill in on Paragraph 9
10. Paragraph 10- "When do you want to take possession?" – Fill in on Paragraph 10 & may need to do a Temporary Lease Back (TREC 16-5 or TREC 15-5)
11. Paragraph 11 -Special Provisions- Only factual and business details here. Don't be guilty of practicing law
12. Paragraph 12- "Do you need help with closing costs? How much? Do you have money set aside for down payment plus closing costs? Has your RMLO gone over with you this information?" – Paragraph 12 to fill in amount for seller contribution
13. Paragraph 13-Prorations- look at Exemptions on Tax Roles and make sure RMLO knows this if the bueys are doing a budget loan or fixed rate
 14. Paragraph 14-Causalty Loss
15. Paragraph 15 -Default- Know the remedies if a Seller Defaults or Buyers Default
16. Paragraph 16-Mediation- We mediate in Texas to encourage resolution of disputes
17. Paragraph 17-Attorney's Fees- prevailing party is entitled to recover reasonable attorney's fees
18. Paragraph 18 -Escrow-
-18A- Title company is not part of the contract
-18B- Expenses -what must be applied first to any cash down payments
-18C-Demand Representations
19. Paragraph 19-Seller may continue to show the property and receive, negotiate, and accept back up offers, even if home is under contract
20. Paragraph 20-Federal Tax Requirements- Listing Agent will inform you and just make sure you let Title company know (especially if you are the listing agent)
21. Paragraph 21-Notices- "Buyer- what is the best way for you to receive information from myself, title company, RMLO or anyone affiliated on my team?" Fill in Paragraph 21 with your appropriates clients information
22. Paragraph 22 – Agreement of Parties- check the appropriate boxes for the Addenda to the contract
Consult an Attorney- "? To Buyer -do you have an attorney you would like me to send over a copy of this before you sign this contract? Remember, I am not an attorney and cannot give legal advice."
Page 9 of the contract- Effective Date must be filled in
Page 10 of the contract is Broker's information- Buyer's Agent- you will receive this information from the MLS listing normally and it can be auto filled in depending on contract software platform you use.
Page 11 of the Contract – Receipt page filled out normally by the Ttile company/Escrow Agent
**Remember all signed copies must be given to your clients
***This is Trademarked to ASHrealty.group & just quick questions to ask your client when filling in a contract.
Amy Smythe Harris, Broker/Owner
ashrealty.group
713.503.2529