Setting Expectations as a Buyer
September 2, 2019
20 Content ideas for Real Estate Posts
August 5, 2020
As REALTORS, we have a fiduciary responsibility to our clients. Since this relationship has been established, normally through an employment agreement (i.e. Listing agreement, Buyer Representation Agreement or Property Management agreement), I personally feel we owe it to our clients to do as much research on the property, as possible, that they are making an offer on.  Also, from the side of Risk Management, I can show documentation of the research on the property that the buyer signed. Yes, I know…I make them sign all the paperwork that I research in addition to all the required forms from our state.  I am a CYA girl- Cover your Ankles!  I do tons more research then I am giving you for the Top 10, so come back to watch my video explaining more ideas.
10 things to research when making an offer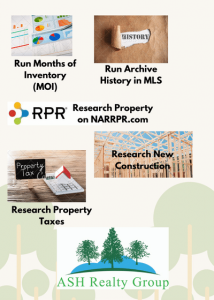 Run Comps on your MLS. If you are not sure how to do this, your local Association may have a CMA class for you.
Look up Sellers names on Social Media platforms. You will find out their profession on LinkedIn that could help with your negotiation strategies. See if you can find them on Facebook. Many people leave their privacy settings open to the public and will divulge on their what is going on with the home they have listed.
Google Earth the address- I know this sounds super silly, but by getting an overview of the area surrounding it, there could be some major red flags or positive items to point out to a buyer.  In addition, I recommend to my picky buyers to do a Google Street View of the property before we make an appointment to see it. This way the sellers are not inconvenienced for a showing that the buyer did not like that a neighborhood backed to an industrial park. (Had that happen to me) I literally have had buyers say to me after getting to a property that the streets were too narrow. Or another buyer said, "There are a lot of cars parked on the streets. Is that ok with the HomeOwner's Association?"
Call! Call! Call! – I know! I know! I know! Nobody likes to make phone calls anymore nor receive them, but in this instance it could Save Your Biscuit!!!   *Ask the HOA cost of transfer fees, CC &R's, time frame getting CC & R's to title company. *Call the Listing Agent- find out motivation for moving (time frame, price, needing to do a lease back) so it will help set up your negotiation strategy when I get a chance to feel out the Listing Agent's voice/in * Call the lender. I am wanting to see response time from lender, how long they are taking for closing time frame, has the lender gone over the Estimated worksheet with the buyer, do we need to ask for closing costs, etc.  See checklist on questions to ask lender.
Google- Have you heard of them?!? They are kind of new….Insert sarcasm emoji here. I google the street address which will tell me if there is an issue with the neighborhood – environmental, liens, problems with Property Owners Association, proposed new roads, and any other red flags that my buyer should be aware of.   Google the Seller's name- be a detective for your clients.
Run Months of Inventory or some may refer to as Attrition rate. Gives you a stat to show your buyer especially in a hot market where there are multiple offers.
Run the archive history on the property in MLS. Was it a previous rental? Did it go under contract and then back on the market? How long has it been listed? Did it switch agents? When was the last time they lowered their price?
NAR RPR – Holy Monkey this website is the mega Big Data of them all. I call it the Mac Daddy of Big Data for us as agents. It is part of your NAR membership so take advantage of all the tools. If you don't know how to use it then, they have plenty of video tutorials for you.  Video help on NAR RPR   or visit their blog at NAR RPR Blog
Research New construction in the area and price point to see if it fits your clients needs. They may have special incentives for buyers that may be better suited for your client.
 Look at the Property Taxes on your local appraisal districts website. I am looking to see if square footage is what was listed in MLS, tax exemptions that may effect the buyers next year once the current sellers exemptions roll off and how much the assessed value has increased/decreased over the past few years.
So go out there and start writing offers. The more we research, the better we are with negotiating in our clients best interest!
Happy House Hunting!